School Uniform
The South Farnham School uniform colours are royal blue and gold. Uniform is available to order from our online shop. We also hold stock to purchase directly from the school shop if you prefer to pay by cash or cheque.
Items of Clothing
Royal blue cardigan or sweatshirt
Juniors: Blue shirt and school tie
Infants: White polo shirt
Grey trousers, shorts, skirt or pinafore dress
Grey socks, grey or blue tights
Blue and white shirtwaister style dress (checked or striped)
Black school shoes - trainers are not permitted, open-toed sandals are not permitted for health and safety reasons.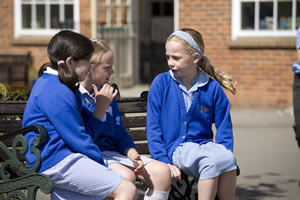 Sportswear
Blue shorts, white or 'South Farnham' T-shirt/polo shirt
Dark blue tracksuit during winter months available with 'South Farnham' logo
Please make sure your child's name is on school clothing