Staff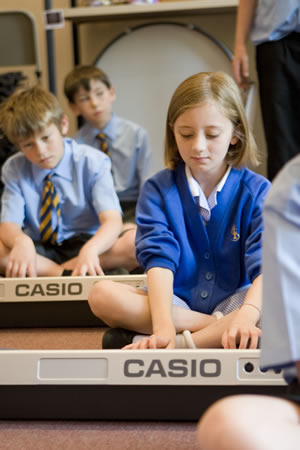 The class teacher is of fundamental importance to the success of the school. Each class teacher contributes to the overall success of the institution and the organisation of the school exists to support, sustain and develop the class teachers' crucial role.
Curriculum Co-ordinators
Each class teacher is able to teach a broad curriculum including the core subjects.
They are supported by the use of specialist curriculum co-ordinators who are able to advise and work alongside colleagues within the classroom.
Specialist help and advice are also available from County Inspectors and Advisory Teachers.
Teaching Assistants
We employ a number of teaching assistants to help and support the work of the class teacher. Teaching assistants help with both individual children and groups.
Staff 2012-2013
Headteacher:
Mr A. Carter OBE
Deputy Head:
Mrs S. Shoveller
Assistant Heads:

Mr P. Austen-Jones

Mrs C. Monk

Head of Key Stage 1:
Mrs J. Downing
School Business Manager:
Mrs C. Booth
Year R
Miss S. Adams
Elm
Mrs L. Reynolds
Oak
Year 1
Miss J. Blacow
Pear
Miss K. Barnsley
Apple
Year 2
Miss L. Matthews
Cherry
Miss J. Gravestock
Beech
Year 3
Mr B. Davies
3D
Miss K. Easton
3E
Miss A. Gorsuch
3G
Mrs N. Wagner
3N
Mrs B. Woodcock
3W
Year 4
Mr M. Jones
4J
Miss S. Easting
4E
Miss J. Flack
4F
Mrs H. Richardson
4M
Year 5
Miss K. Lindstrom
5L
Mrs D. Harper
5D
Miss E. Godden
5G
Mrs J. Hodge
5H
Year 6
Mr T. Collins
6C
Mrs. R. Hales
6H
Miss A. Jones
6J
Miss J. Linscott
6L
Personalised Learning
Mrs S. Shoveller
Mr P. Austen-Jones
Mrs J. Barber
Mrs M. Carter
Mrs J. David
Mrs R. Jones
Mrs C. Monk
Miss S. Pearce
Mrs C. Trottier
Mrs K. Twaite
Mrs A. Wrighton

ICT Technician

Mrs J. Notermans

Administrative Assistants
Mrs G. Ellis, Mrs J. Hibbert
Mrs S. Mead, Mrs A. Newell
Mrs J. Perrin, Mrs C. Peters
Mrs L. Raynsford
Finance Officer
Mrs R. Frewer
Teaching Assistants
Miss N. Adams
Mrs A. Andrewes
Mrs C. Beard, Mrs P. Brown
Mr P. Celino, Mrs L. Charlton,
Mrs M. Cross, Mrs L. Evans
Mrs D. Freeman, Mrs A. Gadolou
Mrs J. Hall. Mrs D. Hardman
Mrs J. Hibbert, Miss S. Hughes
Mrs K. Humphreyies
Mrs A. Johnson, Mrs F. Keane-Munday
Mrs K. Mosca, Mr T. Nimmons
Mrs C. Oakley, Mrs C. Rawlings
Miss F. Shipway, Miss C. Shrubb
Mrs V. Sim, Miss L. Stell
Mrs K. Suter, Mrs C. Tote
Ms F. Trudelle, Mrs J. Watts
Mrs J. Wharton, Mrs T. Wills
Miss A. Zealey
Caretakers
Mr A. Binfield, Mr D. Brown, Mr M. Wilson
Caterer
Mrs V. Garrard
Senior Midday Supervisors
Mrs J. Hibbert
Midday Supervisors
Miss N. Adams
Mrs A. Andrewes, Mrs C. Beard
Mrs L. Charlton, Mrs L. Evans
Mrs D. Freeman, Mrs J. Hall
Mrs D. Hardman, Mrs K. Humphreyies,
Miss S. Hughes, Mrs F. Keane-Munday
Miss C. Shrubb, Mrs V. Sim
Mrs K.Suter, Mrs J. Wharton
After-School Child Care Supervisor
Mrs J. Watts